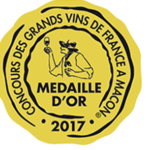 Sale!
Optimum Red 2014
An exceptional vintage
"Ruby red, full-bodied, and pleasant, a wine rich with natural and wild aromas, spiced with bold tannins and hints of black berries."
Appelation : A.O.P. Côtes de Provence
Grapes : Mainly old Syrah
Ageing : The grains are delicately pressed and bottled directly after a long maceration in a Provencal cask, rendering a unique and rare cuvee.
Serving temperature : 16-18°C
Serving suggestions : Chevreuil, Faisan, Morels, brie de Meaux truffle
35,50€